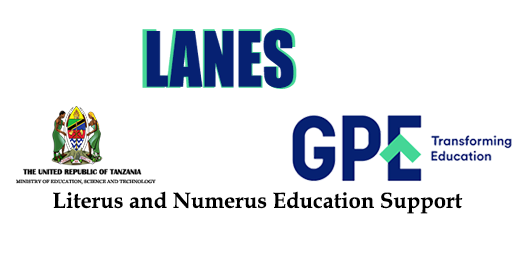 The Ministry of Education, Science and Technology (MoEST) in collaboration with the President's Office-Regional Administration and Local Government (PO-RALG) is implementing a three year programme (2014/15-2016/17).
The overall GPE-LANES programme objective is to improve Basic Skills in Literacy and Numeracy for Children aged 5 – 13 years.  The Key Programme Result is Improved Basic Skills in Literacy and Numeracy for Children aged 5 – 13 years.  It has been in implementation since the beginning of Financial Year 2014/15.
Achievements
Completed development of 5 titles of Standard II Books including their pre-testing. Likewise procurement process was completed at which approval was given to proceed       with engagement of printing companies.
The training was conducted as planned and 24 National Facilitators were trained who will then train 480 Teacher trainers in 2016.
Completed the Printing and Distribution of 4 titles of Standard I (Std I) Books to all schools by end of June 2016. A total of 4,055,200 books were distributed
Training was completed to 125 staff who will carry out learning needs assessment after the Learning Assessment Kits has been procured and distributed.
The Special Education Unit at MoEST working with TIE and PO-RALG completed a Teacher's Guide for teaching 3Rs to children with Visual (VI) and Hearing Impairment (HI). Training of 285 Visual and Hearing Impairment Teachers was completed at the end of June 2016.
Scholarships were provided for PhD and Masters Studies (with the total of 17) starting September 2015.
A total of 1556 Quality Assurers were successfully trained on the 3Rs revised curricular.